After loading your .DFF files, select at least two (or more... essentially all the files you want to glue into one big file, as long as it's more than one) by clicking on them with the CTRL- or Shift-key pressed, so they are blue selected. You can also select files by dragging the mouse, if you start in an empty area. Once you select more than one file, the 'Glue selected files...' button will become available.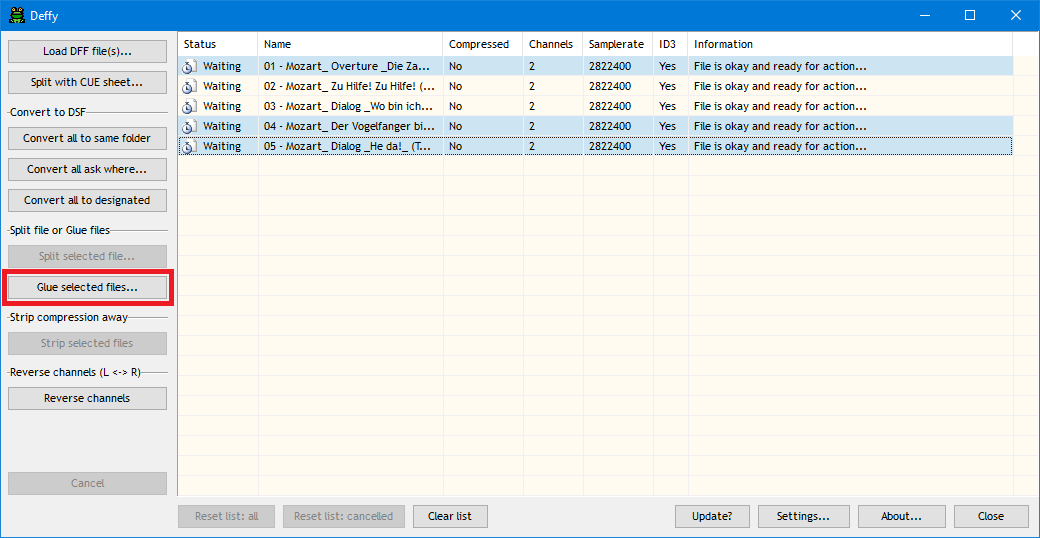 After startup, three files are selected for glueing... (version 3.0.0)
Now click the 'Glue selected files...' button. Your selection will be validated and if no errors occur, the 'Glue' window opens.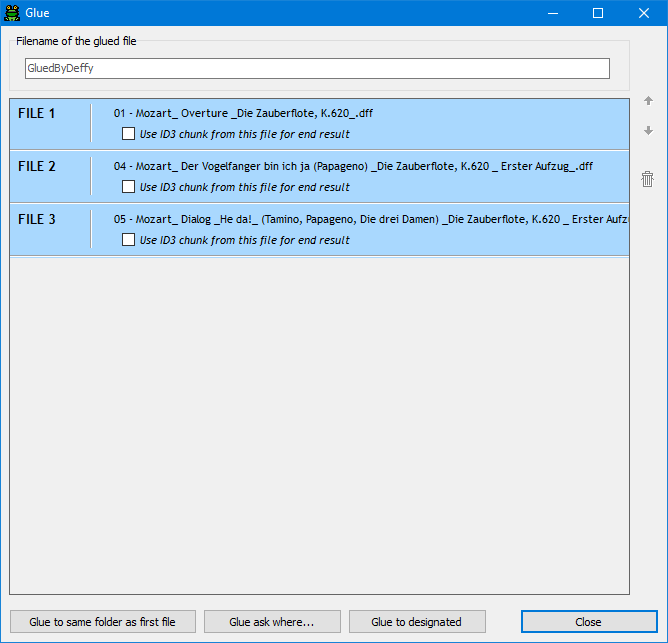 The Glue window is opened with all the files from the selection showing... (version 3.0.0)
You can expect Deffy to refuse the files for glueing if the following properties are not similar:
o Compression (you can only glue DSD to DSD and DST to DST but not DSD to DST or DST to DSD) - all selected files need to be 'No' in the compressed column or all the selected files need to be 'Yes' in the compressed column... you can't have both.
o Sample rate - all selected files need to have the same sample rate.
o Channels - all selected files need to have the same number of channels.
In the Glue window you can change the name of the resulting glued file in the edit at the top of the window (if you leave that edit empty, the file name will be 'GluedByDeffy.dff'). Note that you do not need to put .dff behind the name. You can move the files (up or down) in the list or remove them. The files are glued in the order as presented (from top to bottom). To move or remove a file, click on it, so it gets selected (lighter blue).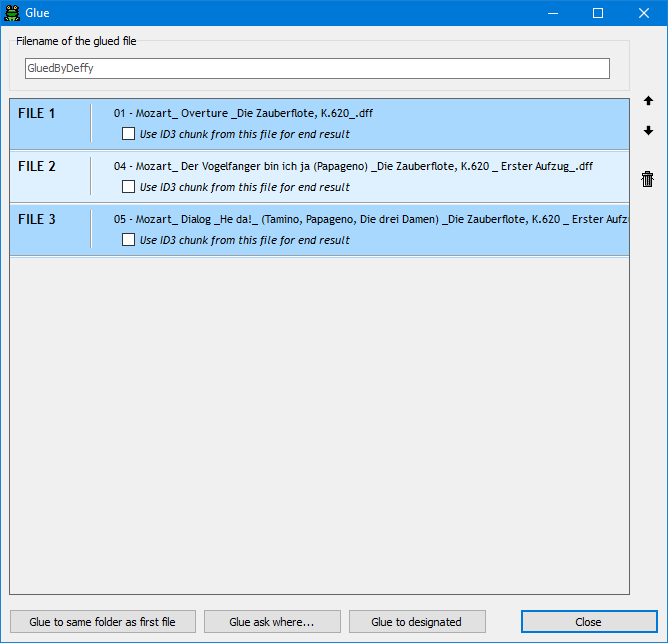 Glue window with the second file selected... you can now move it up or down in the list to change the glue order or delete it, with the buttons on the right... (version 3.0.0)
If any the files have an ID3 chunk, you can select one of them through the check mark of the file. The particular ID3 chunk of that file will then be added to the glued result. Note that you can only select one file for the ID3 chunk. If you click on another check mark, the previous one will switch off. If a file doesn't have an ID3 chunk, the check mark to select it is grayed out. If you don't select a check mark on any of the files, no ID3 chunk will be written to the resulting glued file.
Once you're satisfied, click on one of the Glue buttons bottom left. The Glue window will close and you will see the glueing proceed in the main window.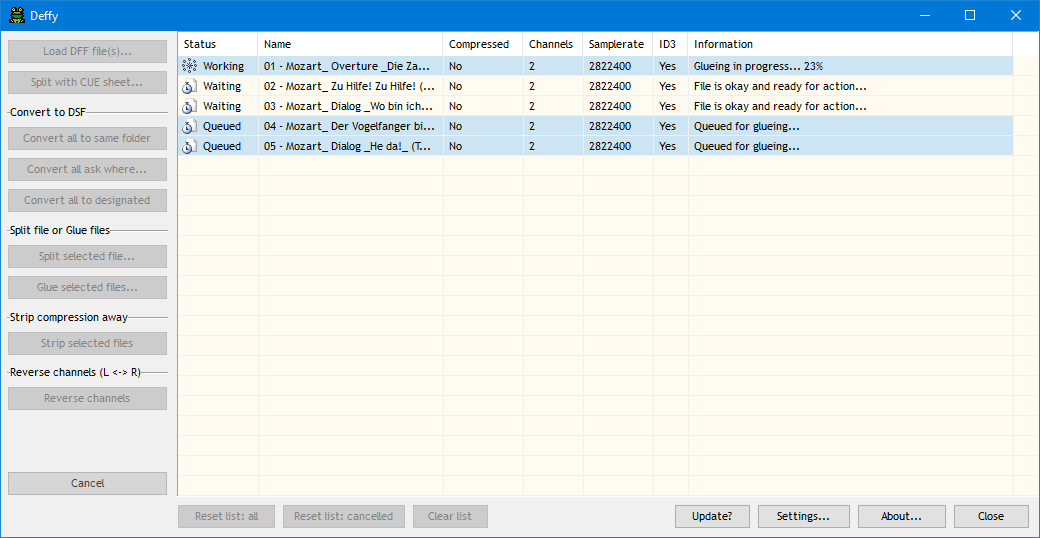 Glueing in progress... (version 3.0.0)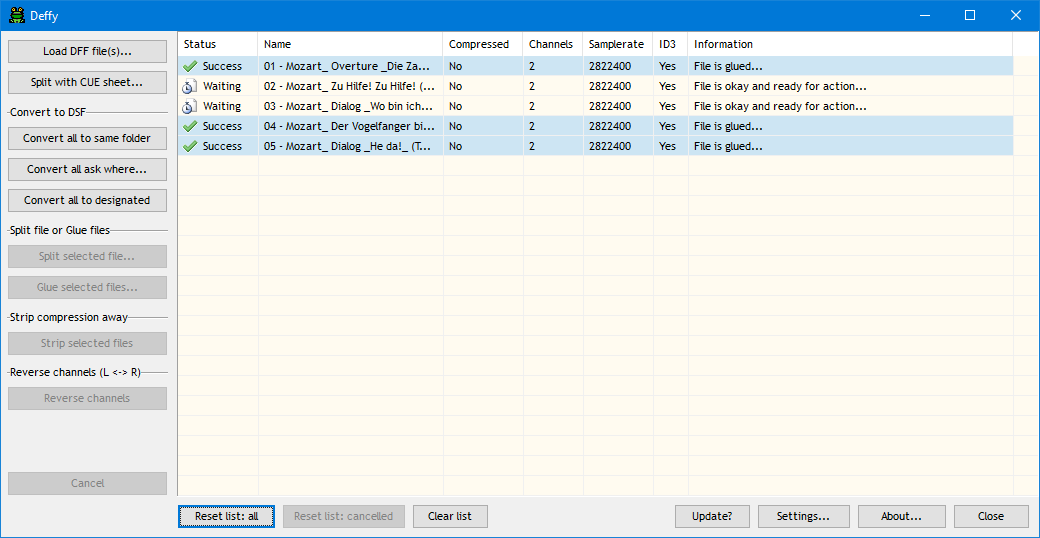 All finished... this particular example glued 3 .DFF files into 1... (version 3.0.0)